IT IS TIME TO CELEBRATE…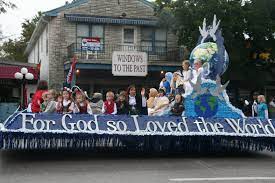 IT IS TIME TO CELEBRATE…
Faith Baptist of Zephyrhills
Sat, Nov 27, 2021
Hi Church!
Are you ready to celebrate? Of all the people in the world, Christians have the greatest and most meaningful celebrations! We celebrate light and life! The world only knows darkness and the drunkenness that often accompanies it. If you have not noticed, as our world gets darker in sin, drunkenness continues to rise. We have no need to be drunk with alcohol as we are filed with the Spirit of Life. We don't need to escape reality, as we have already been delivered from the darkness.
As we observe Thanksgiving and Christmas, we have some BIG PLANS to show forth the LIGHT in our dark world. We are the hands, feet, and voice of Jesus. Notice how John describes Jesus' influence while in the world: "In Him was life, and the life was the light of men." John 1:4 That is our mission: to bring LIFE and LIGHT to our town!
Please take note of the following plans & schedule:
This Sunday, 11/28, Cassandra Dorsaint will be our guest speaker! Cassandra serves with ONE MORE CHILD (formerly called The Baptist Children's Home) as the director of engagement. This is one of the biggest difference makers in the state of Florida. They help foster families, advocate for sex trafficing vicitms, help single moms and feed hungry children and families all over Florida. Our missions committee is seriously considering recommending that our church take them on for monthly support. Come prepared to learn about this exciting ministry!
It is time to have some FLOAT FUN! While it is more work, it is a lot fun putting a float together! Come on Wednesday-Friday from 6:30-8:30 pm to help paint and decorate our 18′ float. This year we are going to pull it in the Zephyrhills Festival of Lights parade and then use it as a platform for some Christmas Caroling! Let's LIGHT UP OUR CITY!
Next Sunday, 12/5 is a Day to Celebrate! We are having a BAPTISM, special GREATER vision meeting, and a really NICE church dinner to follow! Take notice of the schedule for the day listed in the attached bulletin! It is going to be a GREAT DAY! GIVING UPDATE: AS OF WEDNESDAY OVER $6,000 HAS BEEN COMMITTED TO THE SOLAR PANEL PROJECT.
Again, the wise preacher says in Ecclesiastes 3 that there is a time for everything! That includes a time to celebrate (dance). Plan to Come and celebrate the LIFE and LIGHT that Jesus has brought into our LIVES! He is soooooooooo Good.
In HIs Good Grip,
Pastor Mike